Train with personal support and have our experts draw up a nutrition and exercise plan for you. A private health check with your doctor provides the basis for your health programme, which the trainers will tailor for you. Depending on your ability and condition, our personal trainers recommend walking tours, long walks and fun on the slopes. Supplement your training days with the programmes in the SPA (e.g.: deep relaxation, yoga, sound therapies, ...) and - if you wish - check your results with lactate measurements, blood tests and performance ECGs. But believe us - you will FEEL the changes!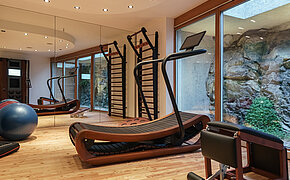 Be fit, feel good. In the new fitness room of the Golden Mountain there is space and room to work out and give it your ALL. And then enjoy the fascinating panorama of the surrounding mountains - where could training be better?
The Galileo training equipment is available alongside the treadmill, bicycles and a muscle training machine. Also available with a personal trainer!